Tailor-made
services and offers
"Our artists and labels benefit from the expertise of a digital specialist and the know-how of a label, while retaining the increased freedom and income that come with a distribution deal."
Since our debut offer as an "improved distribution" service including personalized support, IDOL continues to broaden its range of services and now operates under the model of Artist & Label services.
Since our debut offer as an "improved distribution" service including personalized support, IDOL continues to broaden its range of services and now operates under the model of Artist & Label services.
Experts for every challenge
International Development
International Development
The world
is our playground

Act and think globally: our motto from day one.
Our international dimension goes far beyond the digital distribution work we do on platforms around the world. In some specific cases, we support the international development of projects in a much broader way.
With the support of our numerous worldwide offices, our "Export" service helps you develop your global strategy and marketing plan, identifying the right PR agencies, coordinating your operations and even go as far as offering physical distribution of your music in key territories. 1D touch
7digital
Alibaba
Amazon
Anghami
Apple
AWA
Beatport
Bleep
BMAT
Boomkat
Boomplay
BPI Anti-Piracy
C&L Music
Cellfish
Chandos
Content Connect Africa
Dailymotion
Deedo
Deezer
Facebook
Gracenote
Hard Wax
HDtracks
HighResAudio
Idagio
iHeart Radio
Jaxsta
Joox
Juno
BNF
KKBox
Kugou Music
Kuwo Music
Line Music
Millward Brown
Mixcloud
Mondia Media
musicMe
Melon
Muso
Napster
Naxos
NetEase
Pandora
Playzer
Presto Classical
Primephonic
Qobuz
QQ Music
Radio France
Resso
Saavn
Shazam
Slacker
Snap
Soundcloud
SoundExchange
Soundtrack Your Brand
Spotify
Tencent
Tidal
TikTok
Traxsource
Triller
Tuned Global
UMA
WAW
Whatpeopleplay
Yacast
Yandex
...
The experience
of an aggregator
Relying on our pioneering experience, our historical proximity with digital platforms and our manageable release schedule, we execute a weekly targeted track pitch on a territory and platform basis and through this, we are able to maximize the number of editors picks and playlist features.
Our Retail Marketing team also benefits from the local support of our international offices, a dedicated back catalogue key account and a team of Audience Development Managers.
A state-of-
the-art tracking and monitoring interface
An invaluable tool
for producers
With its state-of-the-art interface,
Labelcamp
allows you to upload your singles, EPs, albums and videos into the IDOL database; monitor your streams, plays and playlist features for most DSPs; display a detailed view of your audience demographics; access your financial reports; prepare and facilitate the calculation of your artist royalties; and offer many other features that enable you to manage your catalog efficiently.
Learn more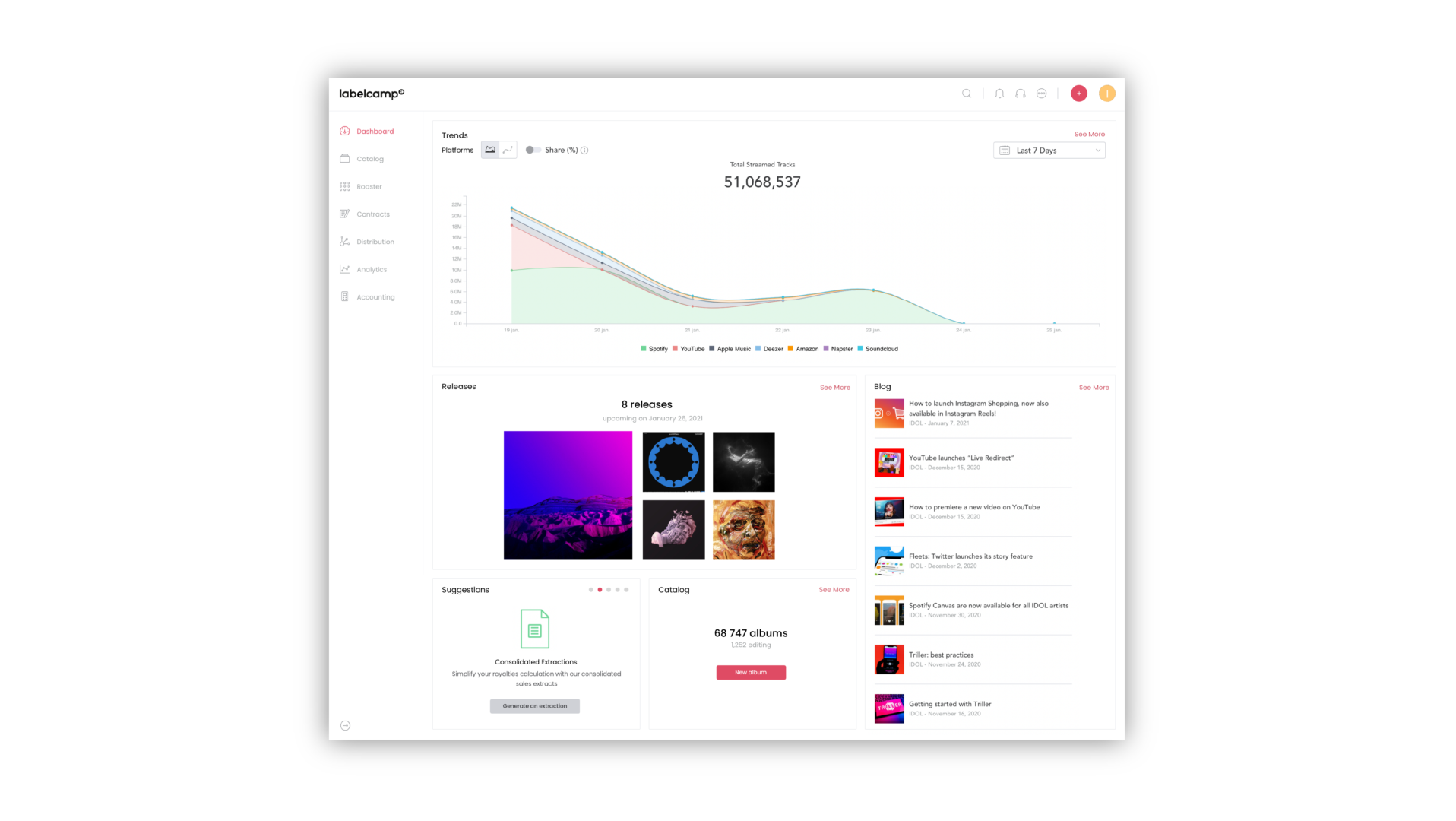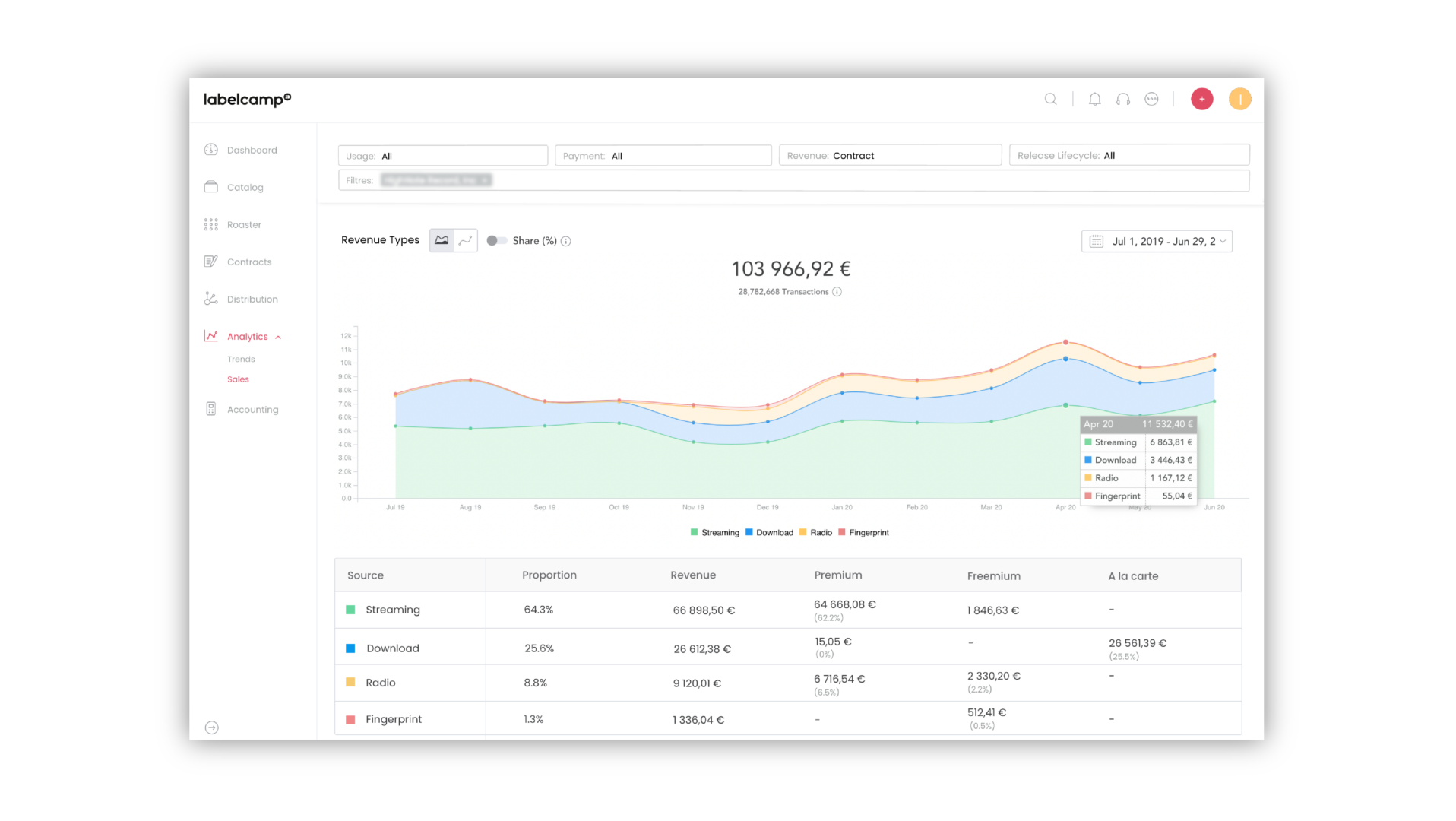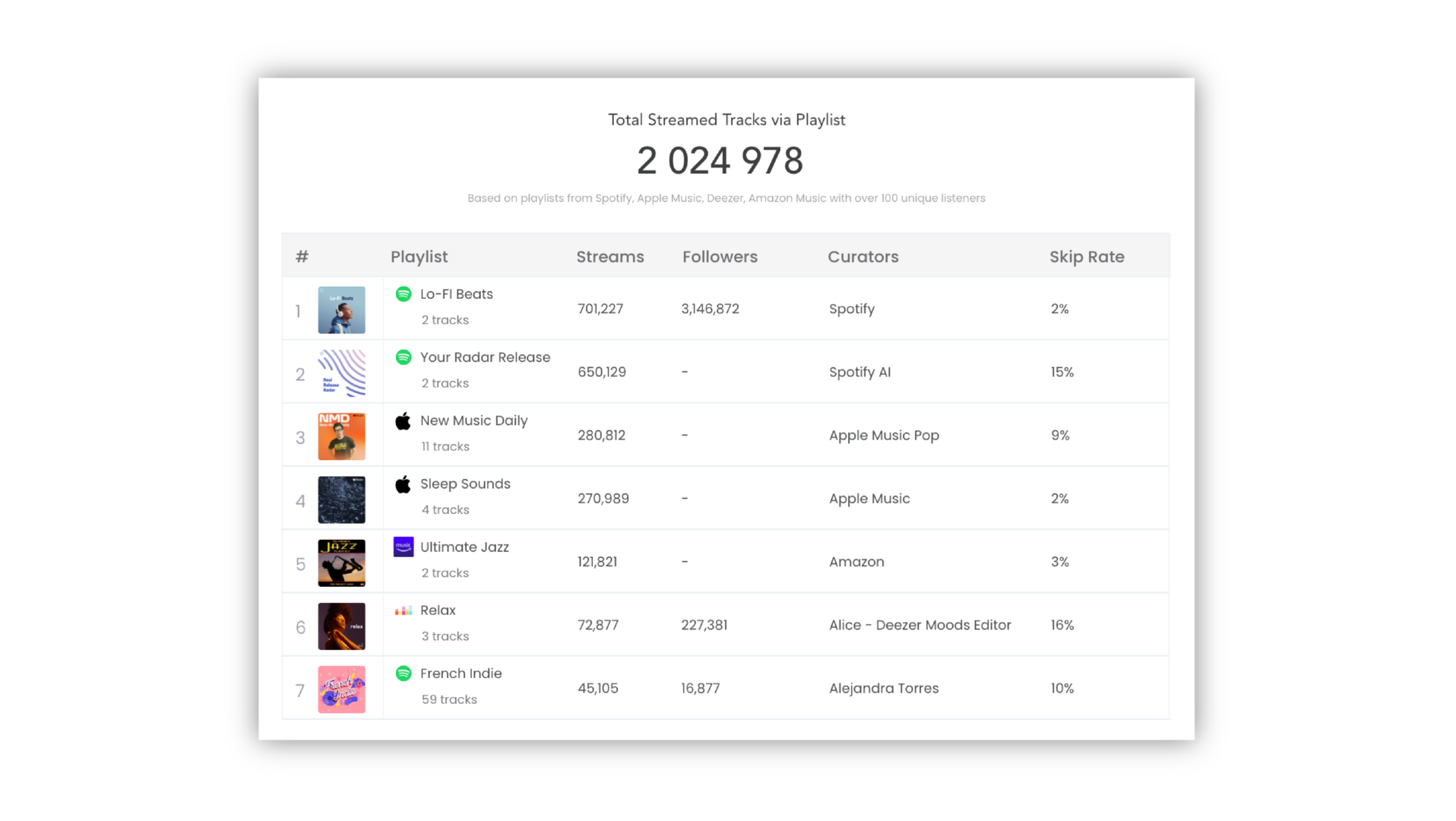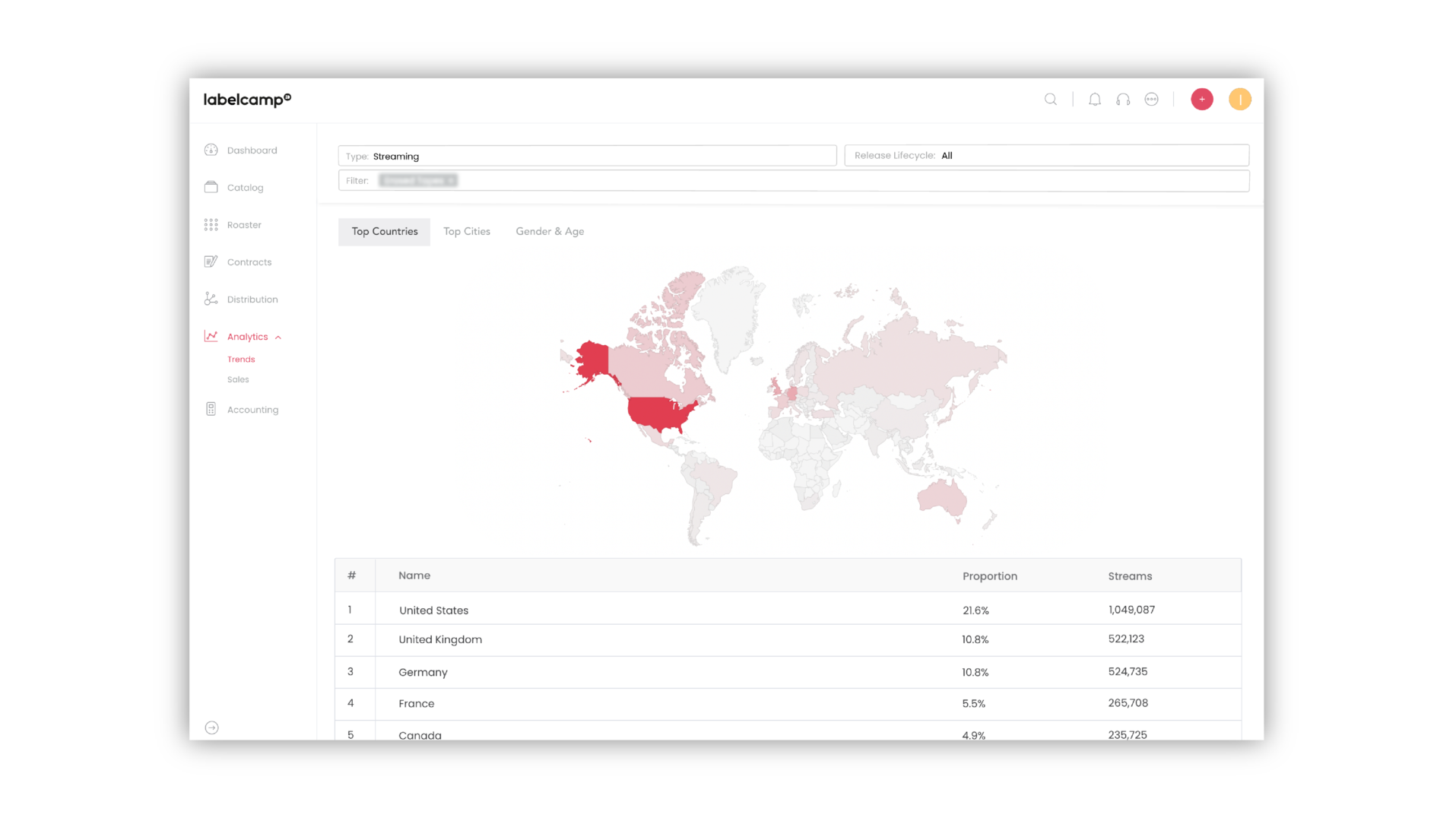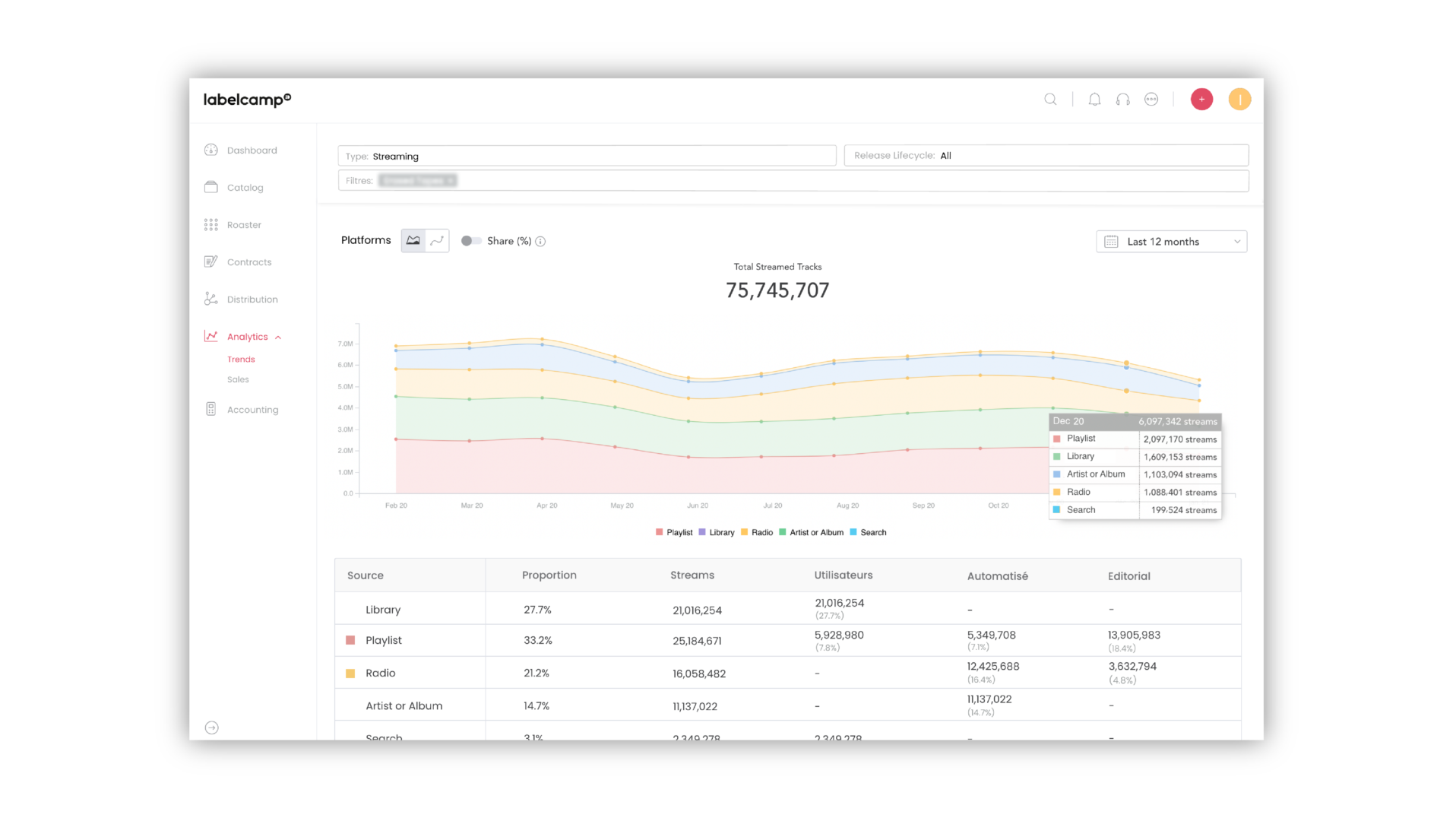 Dashboard overview
Upload your releases easily
Monitor your daily streams
Analyse your revenues in details
Track your playlists WW and optimize exposure
Follow your activity globally
Discover the source of your streams
Tips and best practices in our private blog
Personalized support
At IDOL, we believe that every project is unique. For each of them, we develop a specific approach to respond to its challenges efficiently.
For all of our labels we offer personalized support and quality service.
Every label distributed by IDOL benefits from the support of a dedicated Label Manager, who will:
Assist you in your planning, your sales/marketing strategy and the definition of your priorities.
Ensure coordination with all other departments (retail marketing, content, audience development, community management, foreign offices, etc.), centralizing recommendations and long-term monitoring of the catalog and future releases.
Connect you with IDOL's network of partners across the world: press officers, freelance project managers, manufacturing, including specialists in royalty calculations, scheduling, neighboring rights, street marketing, etc.
For projects that require a broader field of expertise
We provide specialised services and experts to meet your individual needs, including:
Physical distribution / manufacturing + mechanicals, in France as well as internationally.
Precise and comprehensive recommendations on digital strategy, digital marketing campaigns (sponsored posts, retargeting, pre-rolls,etc.) and offline marketing.
International sales support: a global conquest strategy by country, including research and follow-ups with local partners..
For entrepreneurial artists or labels with strong potential that lack the resources
We offer early support to help you grow your project:
Building of a marketing plan, advice on positioning and image strategy, choice of singles for the releases, retrospective planning…
Implementation and monitoring of all online campaigns, negotiations and acquisition of offline campaigns.
Potential to work alongside a dedicated Project Manager and / or benefit from similar licensing deals and co-ex contracts.