Myele Manzanza's release strategy in detail
Myele Manzanza, the new wave jazz drummer/composer from New Zealand, just released the second volume of Crisis & Opportunities, Peaks. Here's a dissection on the collaborative release strategy from the IDOL team and DeepMatter Records.
When IDOL started working with DeepMatter, Myele Manzanza was definitely a priority. Tom Billington, Label Manager, recalls: "The label is very organized; they came with the artwork, the finished album and a plan, so the foundations were there from the outset. That enabled us to put forward a really strong pitch with DSP's editors. And because we have experience in jazz, I knew exactly who to contact. Indeed, having worked on artists like Tenderlonious and with 22a Records or Whirlwind Recordings through Proper Records, we've got really good contacts on the jazz side of editorials."

Tom Pickford, founder of the label, tells his side of the story : "We had only just partnered with IDOL, we presented them the plan, the music we had so far and instantly they got back to us with ideas, strategies and so much more to help build this project out, release by release, and elevate Myele to where he should be. Our label manager got stuck in straight away and together, along with the manager Eric, we got together a release schedule, along with marketing, PR & Radio, DSP strategy, YouTube and so much more, and began rolling out Vol.1 – 'London'."

The New Zealander isn't new to the scene, Myele Manzanza already released three albums since 2012. Nevertheless, to IDOL, the artist should be getting more attention. Thanks to the efforts of the retail marketing team in the UK and worldwide, the first volume went on to be supported across the board, on Spotify, Amazon Music, Deezer and Qobuz. And since it was a culturally relevant album, Apple Music reached out for a Black History Month interview and supported with a Myele Manzanza: Essentials playlist on the platform.
The contract signed with Myele Manzanza covers multiple albums. DeepMatter recounts: "When Myele and his manager Eric approached us, they came with Crisis & Opportunity, a project like nothing we've ever done. However, that project was broken down into 5 albums, all different from one another, which to us was something very new and definitely a challenge." For IDOL, this is an advantage : "It means we didn't have to do everything with one album only, which is very difficult. We can build his profile over the next few albums."

For the second volume, IDOL and DeepMatter defined objectives together. "We're being realistic, as in we're not trying to get the cover of New Music Friday because it's a jazz album, but maybe the cover of The Pocket on Amazon Music or trying to get a playlist takeover on Apple Music. Those usually take quite a long lead time, so some of the coverage we're aiming for are for the next album already. We already got the cover of the Spotify's State of the Jazz playlist for the first volume and the cover of Amazon's Fresh Jazz playlist for the second volume, as well as the Apple Hero Banners for both."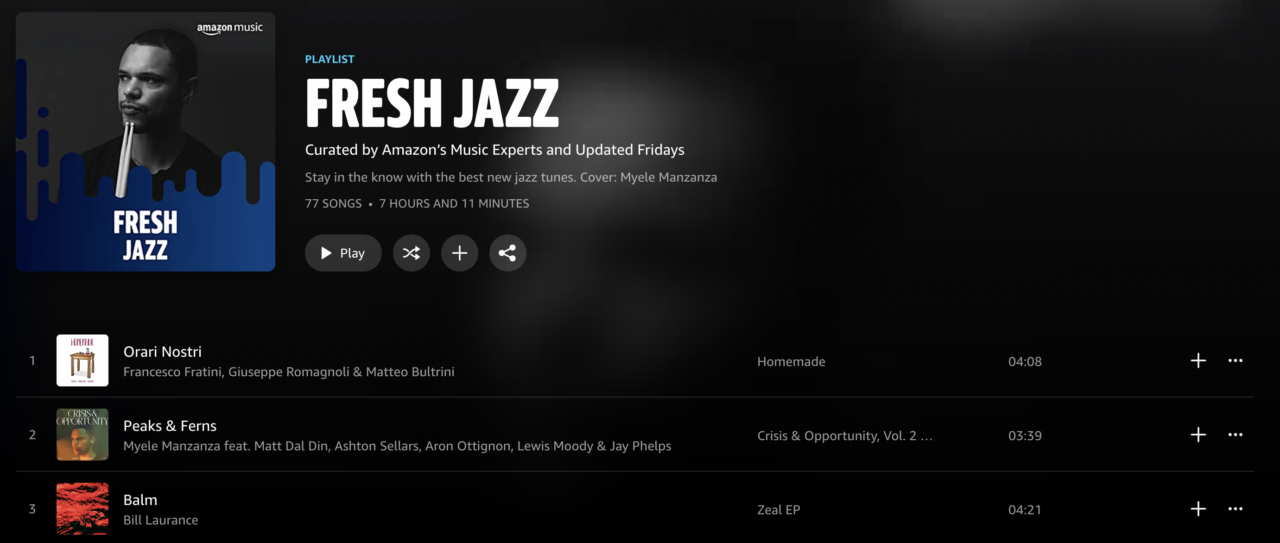 Crisis & Opportunities' first volume was released in April, only a few months ago. The strategy IDOL offered was to release a single, 'Coldharbour Lane' before the second volume's release. "That's something that we like to suggest: not going from one album straight into the next, but releasing a few things in between. So Myele released a one-off single that builds off the first album, in order to keep his profile raised with the editors. It was a 7 minute track that kept people interested, and it allowed us to talk about the great album that came out. Then, later in the year, we were able to start working on the album campaign that just came out."

For the label, this strategy proved to be successful: "To look back at where Myele was on the figures front before DeepMatter & IDOL was involved and not having had any editorial support, to the success of the Vol.1, followed by his single 'Coldharbour Lane' which gained a large amount of support as well, and now the recent and already successful release of Vol.2 and the streams and sales he's hit since being with us… All of that in under a year, this is remarkable. This has been down to the planning, supporting and work of not only DeepMatter, but IDOL, massively. In fact, it often feels like Tom Billington is an employee of the label, rather than IDOL, the amount he gets involved!"
Altogether, Myele Manzanza is an artist with a lot of potential. Roo Currier, UK General Manager at IDOL, details his profile: "He's an artist that stores will naturally gravitate towards as his music is great and he has a striking visual presence. He's really interesting too! So he gets a lot of press and radio… He's got a great sound, great recordings, with an effective label and good management: he ticks all the boxes that make a partner really easy to work with."

To conclude, Tom Pickford shares his impressions: "A further mention to all of the IDOL team as well, David, Antonio, Josh, Solène and all the others who together have jumped in and helped throughout the journey so far. They all genuinely want to help, want the best for the artists and always have a solid suggestion or two which takes things further each time. It's a pleasure to work with like minded individuals."