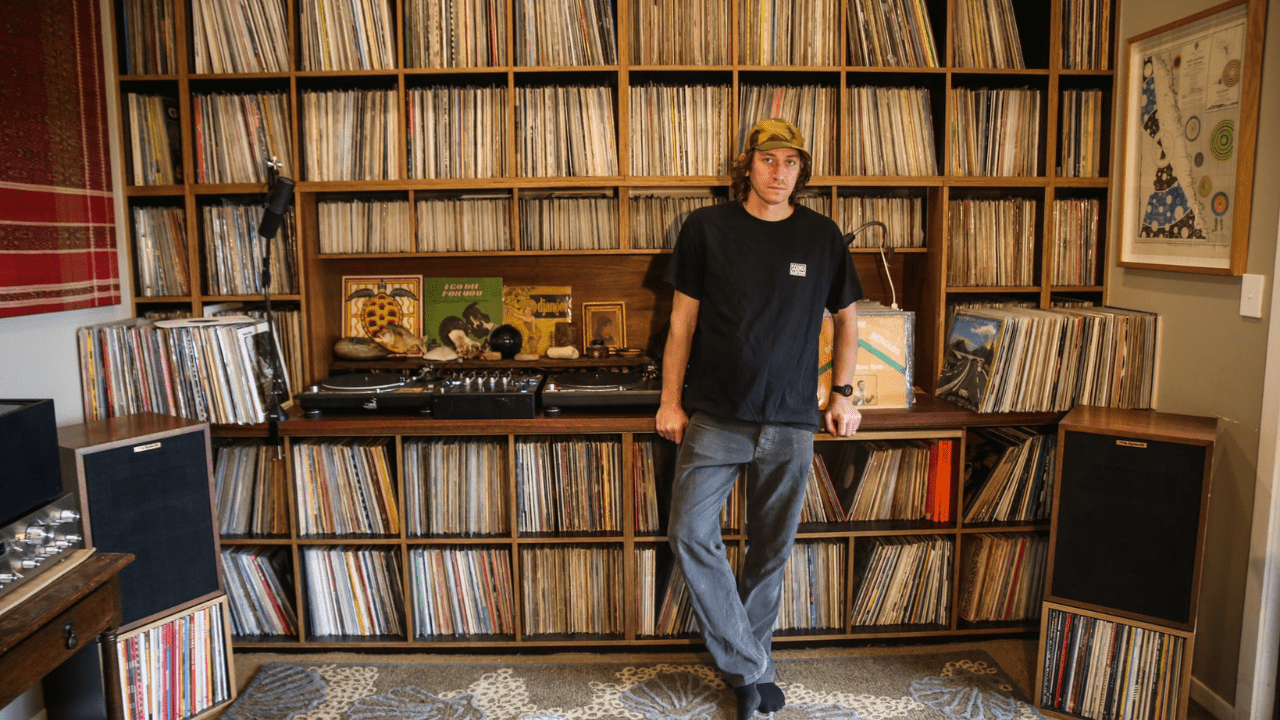 The illustrious Soundway Records joins the IDOL catalog
IDOL is proud to announce the signing of Soundway Records, the London-based label founded by producer and collector Miles Cleret. Initially a rich catalog of must-have reissues, Soundway, starting in 2012, has since focused on the development of contemporary artists.
Founded in 2002, Soundway Records has since established itself as the reference label for reissues. A true digger, Miles Cleret has spent many years crisscrossing Africa, the Caribbean, Latin America and Asia to reissue forgotten artists from the 1950s to the 1980s.
The beginnings in Ghana
It all started with a trip to Ghana, where Miles Cleret compulsively bought old recordings from the 1970s highlife. When he couldn't find a label to release them, he decided to go ahead and found Soundway Records. The name comes from a track by Wrinkar Experience, a Nigerian band that made its mark on West Africa in the 1970s.

The success of this first release, titled Ghana Soundz: Afrobeat, Funk & Fusion in '70s Ghana, encouraged the founder to embark on other compilations, such as Kenya Special and Doing It In Lagos: Boogie, Pop & Disco in 1980s Nigeria. Later, the label reissued artists' albums with, among others, a retrospective of Ghanaian disco legend Kiki Gyan and a tribute to Fela Kuti, releasing one of the Afrobeat founder's first recordings, Highlife on the Move (2015).
"The aim of these compilations is to keep the music from dying so as many people as possible can hear it" Miles Cleret to Exclaim.
Reissuing records is detective work, because you have to locate the original bands. The scenarios are inexhaustible: you have to find out who owns the masters, who owns the rights, whether the music has been published or even licensed for a certain period of time…
A new era
If the beginnings were mainly focused on compilations, Soundway has, since 2012, been producing artists such as Ibibio Sound Machine, Lord Echo, Batida, Ondatropica, Bomba Estereo, and La Yegros among others. Now, the label covers areas as varied as vintage Asian pop, electronica, psychedelic rock, folk, disco or Afrobeat.

In an interview with The Vinyl Factory, Miles Cleret explains his approach: "I do believe that until you release unique music that's never been released anywhere else that you aren't a truly proper record label. (…) Contemporary music is far more challenging and risky but there's too much incredible music being made these days not to want to change the direction of the label a bit and do both."
Key Releases from the catalogue
Doing It in Lagos: Boogie, Pop & Disco in 1980's Nigeria - 2016
"This prescient reissue delivers a crucial set of Nigerian songs that show the country absorbing and beaming back singular versions of disco, boogie, electro, and early rap." tells Pitchfork, with the rating of 8.5.
Steve Monite - Only You - 2022
This is a remastered version by Steve Monite of an album originally released in 1984, including the track 'Only You' which has seen a resurgence in popularity thanks to recent covers by Frank Ocean and Theophilus London & Tame Impala.
"This is good news for collectors as original pressings have been known to sell for over $1000." Pan African Music
Ondatrópica - Ondatrópica - 2012
"We'd never have been able to put out a record like this without the money that had been granted to Mario & Will (Frente Cumbiero & Quantic) from the British Council. They paid for the recording session in Medellin at the legendary Discos Fuentes studio that has since been dismantled." Label Spotlight: Soundway Records – The Vinyl Factory
Kiki Gyan - 24 Hours in a Disco 1978-82 - 2012
Considered the African answer to Stevie Wonder, Ghanaian multi-instrumentalist Kiki Gyan was a musical prodigy. Before he even reached his 21st birthday, he was playing keyboards for London's top recording studios. If his fall was as meteoric as his rise, he is still a great disco record producer with electrifying grooves that haven't aged a day.
Lord Echo - Harmonies - 2017
"Part of my approach has always been to try and take elements of a style of music that maybe somewhat distasteful to my ears – say disco or techno – and try to remake it using my preferred sonic palette of 1960's production techniques and the influences of my favorite styles of music – Jamaican reggae, East and West African music and American funk and soul." Lord Echo
Felbm - Tape 3 - 2020
Dutch composer Eelco Topper offers lo-fi pieces with soothing musical qualities. Infused with jazz, 80's English dream pop, minimal ambient music and Brazilian bossa nova, Tape 3 offers a true meditative space.
Various Artists - Ritmo Fantasía: Balearic Spanish Synth-Pop, Boogie And House (1982-1992) - 2021
"DJ Trujillo curates a superb time capsule of early Balearic dance music for Soundway Records, from languid pop and sensual wave music, to velvety house anthems" Compilation of the Month on DJ Mag