IDOL 2022 CNM international certifications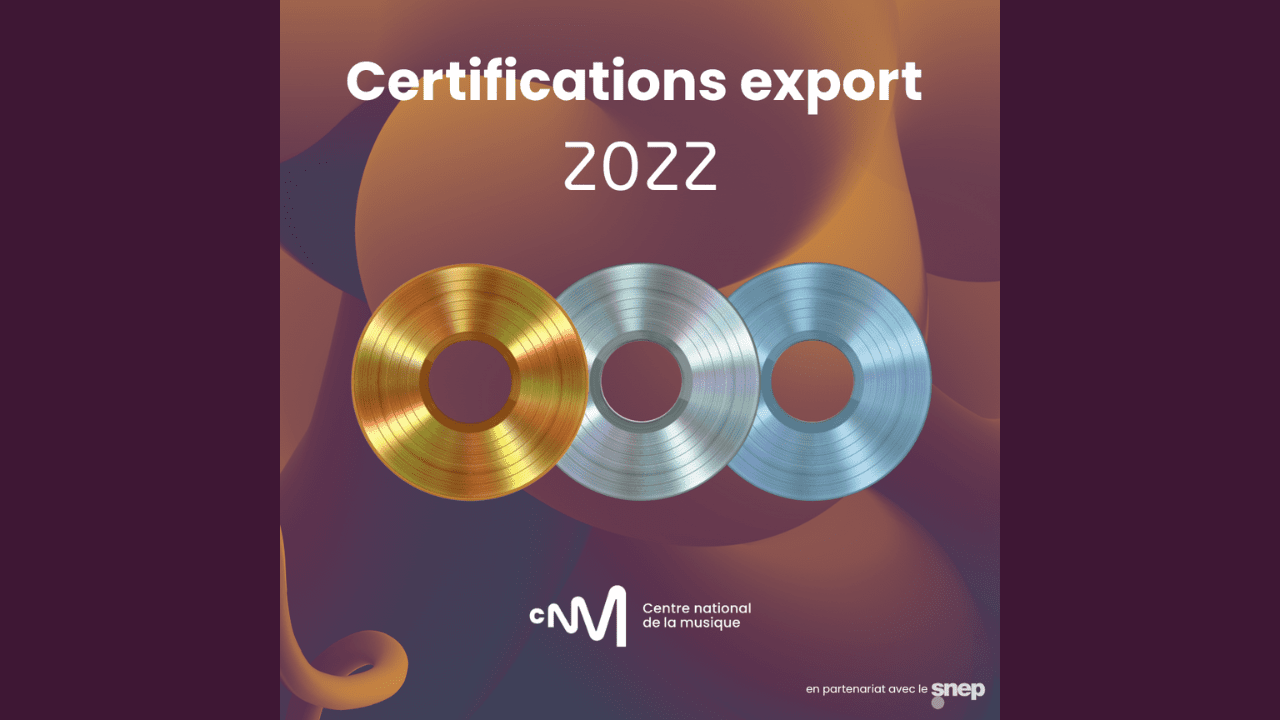 The CNM proceeded to certify the international successes made in France for the year 2022. Several IDOL artists on the list are certified up to 6X Diamond! Congratulations to Caravan Palace, L'Impératrice, Marie-Madeleine, Else, La Femme and Rone!
Each year, the Centre National de la Musique certifies the physical and digital sales made outside France to measure the albums and singles that contribute to the influence of French production abroad.

In 2022, 149 artists were certified, with a total of 326 certifications, including 279 singles and 47 albums. This represents a significant increase of +38% compared to 2021.

"This year we are again delighted to see many of the titles in our catalog being certified internationally for the first time or passing a new threshold. These certifications reflect not only the ambition of these artists and labels to develop internationally, but above all the efforts they have made to achieve this, and we are proud to support them on a daily basis in this project," says Constance de Bosredon, Head of International Coordination.

The CNM concluded that this year, the video format "has become an essential communication tool and an additional way for each artist to promote their music beyond borders. […] The music by French band Caravan Palace continues to attract an ever larger and younger fanbase that share it on TikTok or YouTube Shorts."
The IDOL artists
Caravan Palace
With their 2015 album Robot, Caravan Palace hit a home run! 'Lone Digger' is certified triple diamond, 'Wonderland' is double diamond, while 'Aftermath' and 'Comics' are both platinum. The track 'Miracle', on the most recent Chronologic, is also certified platinum.
Else
The duo Else are not stopping in their race to the top. The single 'Paris', certified 4x diamond in 2021, is this year 6x diamond! How far will Else go?
Marie-Madeleine
Marie-Madeleine's 2014 track 'Swimming Pool' first went viral in Russia in late December 2021. The TikTok trend then reached the US, propelling the track to platinum certification!
La Femme
Since their beginnings, La Femme has always had international ambitions. Last year, the group released Teatro Lucido, an album entirely in Spanish to support their growth in Mexico. This year, it was the 2016 single 'Où va le monde ?' that resonated beyond our borders.
Rone
The electronic music artist Rone has been working on a number of projects, whether with (LA)HORDE and the Ballet national de Marseille in 2019 or with the Orchestre national de Lyon in 2023, but his first tracks are still hits! The track 'Bye Bye Macadam', off his second album Tohu Bohu, which made him famous in 2012, is now a gold single.
For an album, the CNM takes into account downloads and audio streaming. To convert the number of streams into sales equivalent, one download equals 150 streams.

The certifications are as follows:
Gold = 15 million streams equivalent
Platinum = 30 million eq streams
Diamond = 50 million eq streams

Understanding the methodology