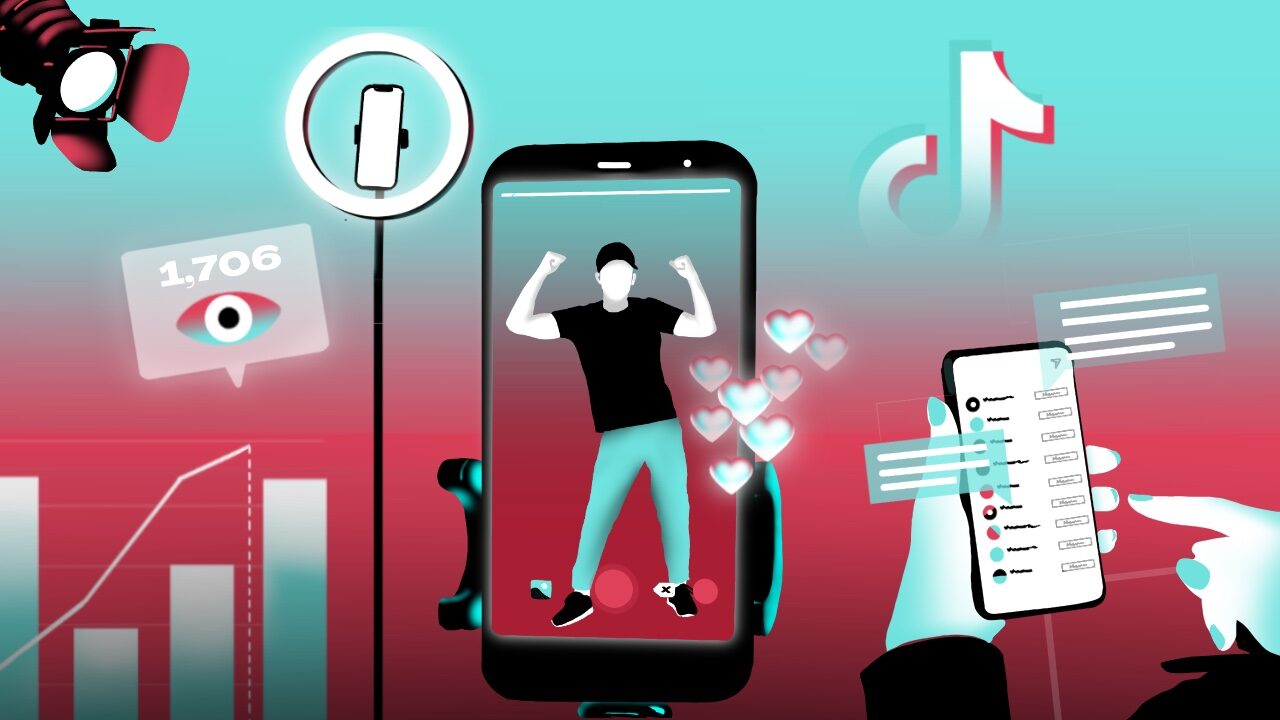 le geai.studio
A musician guide to TikTok: Strategy (2/2)
Second part of our guide on TikTok. Now that it has been established that the platform is essential to an artist's development, the Audience Development team gives advice on how to adopt an effective strategy on the flagship network.
The strategy
IDOL Audience development
To follow the trends on social networks, IDOL has recently merged its digital marketing and video departments into Audience Development. The goal is to accompany artists and labels in the development of organic audiences, through the creation and optimization of content on YouTube, Snapchat and of course TikTok. The team also deals with the paid part of audience development, including media buying.

Maximizing the number of views
IDOL has been developing strategies on TikTok for the past two years, after noticing that streams of certain titles were rising on platforms overnight thanks to TikTok. But this requires mobilizing resources, acculturating various labels and developing relationships with the TikTok teams. The latter's workforce is growing, as are the possibilities for partnerships and playlisting. The challenge is to maximize the number of views. Even if revenues are still lower than on other social networks, the ripple effect on streams is more and more obvious.
A virtuous virality
For intensive users of TikTok, a radio effect can occur: after an hour of use, some videos come back, and the associated tracks are remembered as earworms. These are the tracks that users will then look for on streaming platforms. Once a track goes viral, an organic dynamic is set in motion on the platforms. This is a differentiating factor, because they value the artist's ability to federate a community of fans. Because the results of TikTok are directly attributed to the public, a good score on TikTok sometimes becomes a commercial argument as valid as a video release, a tour or a magazine cover.

Relations with TikTok
Beyond the information on the operations put forward by TikTok, the relationship with its teams consists in pitching the new releases to place them in the playlists, as on other platforms. The playlists can be algorithmic like Top Charts or Top Tendencies, but there are also mood or new releases playlists editorialized by the TikTok teams. They are displayed at the time of the creation of the video by the users. To be highlighted by partnerships or banners is therefore crucial. This requires that the artist plays the game, with an active profile.
"You have to be active and embody your profile naturally, everything happens facing the camera." David Percy - Audience Development Manager
TikTok for everyone?
TikTok is a recent tool, on which developing a profile takes time. Some artists are receptive to it, others remain closed to it. The key is to feel comfortable with it. Don't force it. But if the artist is having fun, they might as well go ahead and create appropriate content. Contrary to popular belief, there is not necessarily a musical genre that predisposes to success on TikTok. It is rather the space of freedom that the artist manages to seize that makes the difference: jazz, indie or electronica meet real successes by presenting themselves with spontaneity and taste for sharing.

Good practices
The objective is to convert into streams.
You have to think about tagging the official sound, even if the artist sings a capella. The DIY dimension is important on TikTok, which emulates a certain equality and identification of users with the creators. The idea is to have fun with filters, hashtags, current trends, and to use new features like "remix". You need to animate your account, and even the big stars don't cut it. Some of them owe everything to TikTok. As an organic development alternative for natural and sincere artists whose music does not naturally perform on streaming platforms, TikTok can be a real springboard propelled by the base. Power to the listeners!

Sponsorship
Sponsorship is very important on TikTok. As the application is recent, there are fewer advertisers. Sponsorship is therefore even cheaper and offers better results. The strategy consists in negotiating the services of influencers. TikTok offers its marketplace for this purpose, which allows to agree on a price for certain keywords. External agencies allow access to it, but IDOL also proposes this service directly. The budget goes from 0€ to a few hundred euros. This allows to cross communities, or to target fans. Of course, it's better not to overuse this feature, in order not to harm the organic development of the audiences.

Monetization
TikTok's evolution is as fast as its success. Especially in terms of monetization. Fans can now tip the creators. TikTok also remunerates a few challenges in proportion to the number of views. Very soon, the application announced paid subscriptions to content creators' live sessions, inspired by Twitch.
In addition, statistics compiled by Midia Research show that TikTok users are more likely to buy music. 40% of them pay a monthly music subscription, compared to 25% of the general population. And 17% buy artist merchandise each month, compared to 9% of the general population.
"On TikTok, songs often break through because of the lyrics, but not only" Antonio Rescigno - Audience Development Manager
The back catalog
The tracks that perform well on TikTok are often back catalog, not just new releases. Right now, IDOL is seeing one of its tracks become a trend on TikTok every month. These are tracks from 10 years ago, or 6 months ago, that the virality of a post reactivates. The catalogs can therefore take advantage of the platform without developing profiles. This pushes to extend the work in the duration.

Case study at IDOL
The group La Femme saw its track "Elle ne t'aime pas" on its 2016 album go viral while the new album was being released. So there is a risk of pointing to the wrong track. Sometimes it is relevant to wait and see over a few weeks what comes out naturally from TikTok.

Thus Jazzy Bazz saw his track "Albiceleste" feat Josman go viral on TikTok while the work was going to focus on the track "Element 115" with Nekfeu. "Albiceleste" was trending on TikTok, which allowed for influencer campaigns to work, with sponsored posts to push the track. It worked well on TikTok because of its lyrics. It paid off in streaming. The artist did not want to create a TikTok profile, so the performance on this platform remained there.

Among other TikTok hits recorded at IDOL, Marie Madeleine's 2014 track "Swimming Pool" went viral in Russia and then in the US in December 2021, ending up as a platinum single; the 2011 bookstore track "Spilling Monkeys" acquired with a label's catalog is another example of a back catalog reactivated on TikTok; most recently "Paris" by the band Else, was certified double diamond thanks to a TikTok trend.

To be continued…