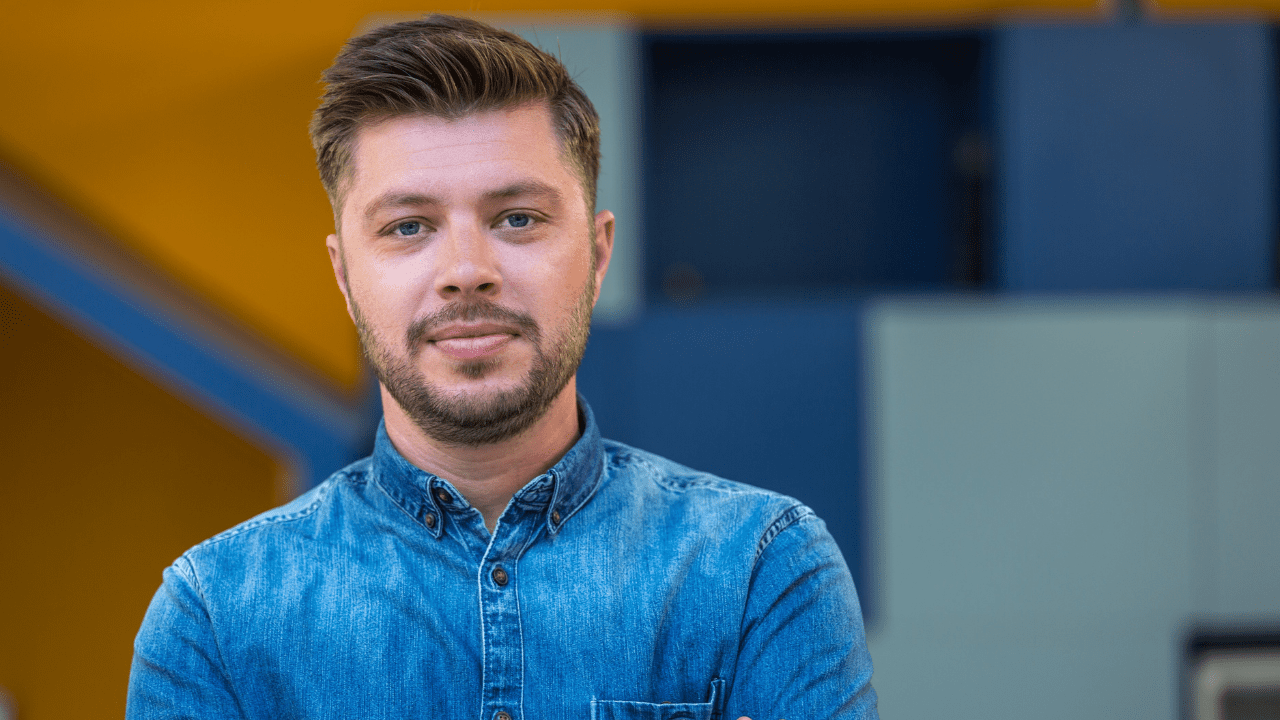 IDOL UK: Roo Currier,
the label whisperer
The first bureau IDOL opened abroad was in London in 2014. Hired in 2016, Roo Currier participated in developing the office, which now has 5 employees and a top-quality roster. He talks to us about his background and, above all, his passion.
Meet Roo Currier, UK General Manager, who talks about the London office that IDOL opened in 2014. In charge of the largest office outside Paris, he is driven by the ambition to help more and more artists become successful, whilst continuing to sign culturally significant labels.
What tasks have you been given to develop the UK office?
I split my time between managing the office, advising my team in label management and strategy, handling the company development in my territory and Business Development, which means signing new labels and artists.

There's definitely an appetite for growth but never at the expense of the service. As we sign more amazing labels, the team grows. This is a core ethos for IDOL. We represent some of the finest record labels and artists in the country but there are more I'd love to work with. We regularly discuss music we like, artists to watch and if we feel they're the right fit, I get in touch. But it's quality over quantity, always. We've had several No1 records in France and I'd like to do that here. The whole team is ambitious and I love that!
What do you love about your job?
I'm across multiple departments, which means that there's no such thing as a typical day for me. And that is exactly why I love my job. I love the challenge that comes with variety. Finding new artists and labels is always a rush. It reminds me of my record shop days. When you find that track you know will do well on the dancefloor. It's the same feeling.

More specifically, I enjoy talking to labels and offering them solutions. The music business is a tricky one and you need a lot of help to be successful. Getting good advice and building a solid team around you is vital. Eventually, I enjoy listening and helping the labels as much as signing them.

I actually have a lot of conversations that don't end in a signing but it always feels like it's a good and honest dialogue. We're talking to indie labels so that's often people who are figuring this business out themselves… They are looking for information and guidance from us and I'm obviously interested to hear from their end: what their problems are and the issues they face, how we could help fix them.
Can you tell us a bit about your career?
Straight after University I worked for Tru Thoughts, a label in Brighton, where I did distribution and label management. We had a full worldwide physical and digital distribution network that I managed. Eventually I also managed key projects like Quantic, The Hot 8 Brass Band or Alice Russell, from getting the masters together through to the marketing plans and retail, dealing with distributors across the world. After several years, I left the label and did club promotion, DJ'd and managed a record shop called Bang. After a year abroad, I ran the vinyl dept at Resident, one of the biggest record shops in the UK.

I then opened my own shop in Brighton, but it was around the birth of iTunes. Hard to compete with the iPod and the revolution it represented. Tru Thoughts asked me back so I closed the shop and went back as Head of Distribution and Marketing. By this time, we were a well-established label, with distribution deals in Japan, Australia, USA, everywhere.

I then went to a label services company in London called Kartel as a label manager. I looked after World Circuit Records which is the biggest world music label: they released the phenomenon that is Buena Vista Social Club. I also looked after Soundway, Mr Bongo… I worked with some really amazing labels!

So record labels, record shops, label services and finally a digital distributor. In retrospect it looks like I had a plan!
Why did you choose to represent IDOL?
I've always worked with A&R-led record labels, always very focused on quality – with no regards to topping the charts. It was about releasing music that we are passionate about and I got that same feeling from IDOL. I had actually met a few members when IDOL tried to sign Tru Thoughts, so I had the pitch!

I liked the selectiveness, the outlook of the company. IDOL wants to find the right labels, the ones that are a good fit and I liked that. The ethos of the company suited me, plus it was fully International which appealed to me. I enjoy traveling and working with people from different places. IDOL was international and growing but also did not act like a corporation.
You've been with IDOL for over six years. What are you the most proud of?
I'm proud of the team that we have in the UK, I'm proud of the team that we have internationally and the service that we offer. I love working with labels, I love it when they are doing well, when you can see that the effort we put in has paid off. Obviously because of the work that they've done, but also because we were able to maximize their effort.

And that's sort of my proudest moment, when a label or an artist tells me that they're growing or giving up their day job. And we're lucky to have had a few of those moments over the years. DeepMatter is growing fantastically at the moment. DJ Zinc can run his label single-handed knowing we're there to support him. Local Action winning the AIM Label Of The Year award. These things make me proud.
What are the key characteristics for this position?
I think a big one is being trustworthy and honest. My sales pitch is essentially just describing how we work. The idea is to work with a label long-term and that relationship must be built on trust and hard work.

A label has to believe in what I say in order to sign. But it's a big decision, because digital represents a hugely important income for every label. And to trust someone with that is a big responsibility.

Having worked in various areas of the industry I think experience is also vital. I've worked with artists, worked at labels, I know what it's like on that side of the line.

The key is wanting to deliver for our labels, being conscientious. We genuinely have the best interest of our labels at heart.
Where are your offices located?
We have an office in Kennington Lane, South London. We have a lovely office, we have floor-to-ceiling windows that look out over the London Eye and the House of Parliament. We have a very friendly atmosphere in the office. We are lucky to work with such amazing talent. That keeps you pretty motivated!

London is a great place to be. It's not the center of the world but it is so significant to the music business. Our UK based labels are spread across the country, from Brighton to Manchester and everywhere in-between, so we're extremely lucky in the UK.
Roo's playlist